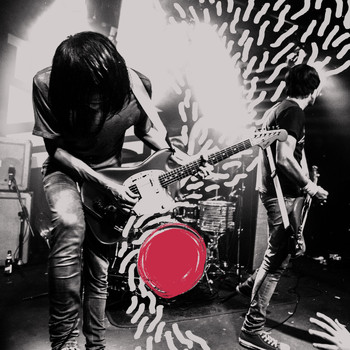 Album vorhören 24-7 Rock Star Shit
Erscheinungsdatum:
11.08.2017
7digital

Was wir davon halten:

So einige Leute fragen sich, ob gitarrenlastiger Indie-Rock im Jahre 2017 überhaupt noch Relevanz hat – The Cribs aber bleiben Beweis dafür, dass das Genre Potenzial hat. Auf 24-7 Rockstar Sh*t hört man die Gruppe aus Wakefield in gewohnt melodischer, angeberischer Form. Aufgenommen wurde das Ganze direkt von Live auf Tape innerhalb von nur fünf Tagen mit Unterstützung des legendären Produzenten Steve Albini. Frontmann Ryan Jarmans Vocals stehen so manches Mal im starken Kontrast zur Musik, die gar schwindelig macht vor Dringlichkeit – manches andere Mal untermalt sein Adrenalin-erfülltes Schreien sie aber fast. Auf der Suche nach zehn Tracks, die gefüllt sind mit Punkt, Garage und Lärm und gleichzeitig markant sind? Dann ist die Suche hier beendet. The Cribs erinnern uns wieder einmal daran, was an Rockmusik so aufregend ist.
| Tracknummer | Songtitel | Songlänge | Preis |
| --- | --- | --- | --- |
| 1 | Give Good Time | 3:13 | Nicht einzeln erhältlich |
| 2 | Year of Hate | 4:06 | Nicht einzeln erhältlich |
| 3 | In Your Palace | 4:18 | Nicht einzeln erhältlich |
| 4 | Dendrophobia | 3:00 | Nicht einzeln erhältlich |
| 5 | What Have You Done for Me? | 3:27 | Nicht einzeln erhältlich |
| 6 | Sticks Not Twigs | 2:19 | Nicht einzeln erhältlich |
| 7 | Rainbow Ridge | 3:36 | Nicht einzeln erhältlich |
| 8 | Partisan | 2:48 | Nicht einzeln erhältlich |
| 9 | Dead at the Wheel | 4:55 | Nicht einzeln erhältlich |
| 10 | Broken Arrow | 4:35 | Nicht einzeln erhältlich |
Gesamtspielzeit:

36:17
Genres:
℗ Sonic Blew
© 2017 Sonic Blew