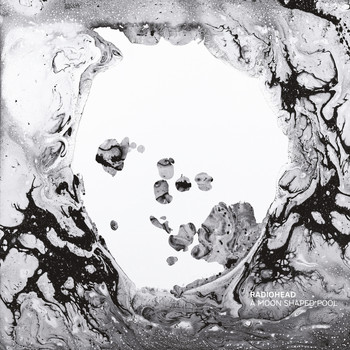 Album vorhören A Moon Shaped Pool
Erscheinungsdatum:
02.11.2022
7digital

Was wir davon halten:

Auf ihrem langersehnten Album "A Moon Shaped Pool" kombiniert die als beste Band Großbritanniens gefeierten Radiohead ihre Liebe für experimentelle Electronica mit einer Vielzahl von Einflüssen, die von John Martyns Solid Air-Ära zu Erased Tapes-artiger klassischer Musik reichen. Das Results dieser Kombination klingt wie eine entschleunigte Version von The King of Limbs. Dank Johnny Greenwoods Arragements und Nigel Godrichs Produktion fehlt es A Moon Shaped Pool in keinster Weise an Raffinesse; dies kommt besonders auf Songs wie "The Numbers", "Daydreaming" und "Present Tense" zum Vorschein.
| Tracknummer | Songtitel | Songlänge | Preis |
| --- | --- | --- | --- |
| 1 | Burn the Witch | 3:40 | |
| 2 | Daydreaming | 6:24 | |
| 3 | Decks Dark | 4:41 | |
| 4 | Desert Island Disk | 3:44 | |
| 5 | Ful Stop | 6:07 | |
| 6 | Glass Eyes | 2:52 | |
| 7 | Identikit | 4:26 | |
| 8 | The Numbers | 5:45 | |
| 9 | Present Tense | 5:06 | |
| 10 | Tinker Tailor Soldier Sailor Rich Man Poor Man Beggar Man Thief | 5:03 | |
| 11 | True Love Waits | 4:43 | |
Gesamtspielzeit:

52:31
Genres:
℗ LLLP LLP under exclusive license to XL Recordings Ltd
© LLLP LLP under exclusive license to XL Recordings Ltd