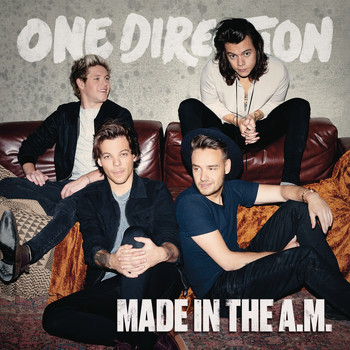 Album vorhören Made In The A.M.
Erscheinungsdatum:
13.11.2015
7digital

Was wir davon halten:

Es ist wahrlich kein leichtes Jahr für One Directions Fans: Nach vier Alben verliert die beliebteste Boyband der Welt ihr fünftes Mitglied Zayn Malik und die verbliebene Truppe verkündete eine "ausgedehnte Pause" ab März 2016. Eine die, so behaupten Quellen, vielleicht nicht mehr endet. Sollte "Made In The A.M" tatsächlich das letzte musikalische Lebenszeichen der vier Herren aus England sein, ist es auf jeden Fall ein gelungener Abgang. Textlich konzentrieren sich die Anfang 20er auf ihr Lieben und Leiden im Rampenlicht, hinterlegt mit Pop-Hooks die Fleetwood Mac und Beatles Referenzen aufweisen. Die Boy-Band ist gereift - und hat sich ohne Zweifel eine Auszeit verdient!
| Tracknummer | Songtitel | Songlänge | Preis |
| --- | --- | --- | --- |
| 1 | Hey Angel | 4:01 | |
| 2 | Drag Me Down | 3:12 | |
| 3 | Perfect | 3:50 | |
| 4 | Infinity | 4:09 | |
| 5 | End of the Day | 3:14 | |
| 6 | If I Could Fly | 3:48 | |
| 7 | Long Way Down | 3:12 | |
| 8 | Never Enough | 3:33 | |
| 9 | Olivia | 2:57 | |
| 10 | What a Feeling | 3:20 | |
| 11 | Love You Goodbye | 3:17 | |
| 12 | I Want to Write You a Song | 2:57 | |
| 13 | History | 3:06 | |
Gesamtspielzeit:

44:36
Genres:
℗ 2015 Simco Limited under exclusive licence to Sony Music Entertainment UK Limited
© 2015 Simco Limited under exclusive licence to Sony Music Entertainment UK Limited