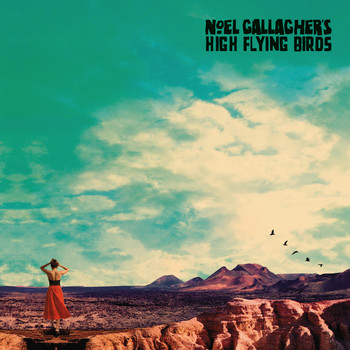 Album vorhören Who Built the Moon?
Erscheinungsdatum:
24.11.2017
7digital

Was wir davon halten:

Vor dem Jahre 2017 genoss Noel Gallagher sieben Jahre lang die ungeteilte Aufmerksamkeit von Oasis Fans. Jetzt wo der ehemalige Frontmann Liam Gallagher mit As You Were auf einer Erfolgswelle reitet, hat Noel auf einmal Konkurrenz – und nicht nur das, der jüngere Bruder ist außerdem einer seiner lautstärksten Kritiker. Man muss dazu sagen, dass Noel nicht wirklich sehr geplagt davon wirkt auf seinem dritten High Flying Birds Album. Produziert von David Holmes und voller üppiger Arrangements – Who Built The Moon ist mit Sicherheit Noels bisher ambitioniertestes, dynamischstes Album, das von Kanye-inspiriertem Psych-Rock ('Fort Knox') und spacigem Krautrock ('She Taught Me To Fly') bis hin zu Vaccines-artigen Tracks ('Holy Mountain') reicht.
| Tracknummer | Songtitel | Songlänge | Preis |
| --- | --- | --- | --- |
| 1 | Fort Knox | 3:58 | Nicht einzeln erhältlich |
| 2 | Holy Mountain | 3:55 | Nicht einzeln erhältlich |
| 3 | Keep On Reaching | 3:25 | Nicht einzeln erhältlich |
| 4 | It's a Beautiful World | 5:17 | Nicht einzeln erhältlich |
| 5 | She Taught Me How to Fly | 5:02 | Nicht einzeln erhältlich |
| 6 | Be Careful What You Wish For | 5:40 | Nicht einzeln erhältlich |
| 7 | Black & White Sunshine | 3:42 | Nicht einzeln erhältlich |
| 8 | Interlude (Wednesday Part 1) | 2:10 | Nicht einzeln erhältlich |
| 9 | If Love Is the Law | 3:25 | Nicht einzeln erhältlich |
| 10 | The Man Who Built the Moon | 4:28 | Nicht einzeln erhältlich |
| 11 | End Credits (Wednesday Part 2) | 2:27 | Nicht einzeln erhältlich |
| 12 | Dead in the Water (Live at RTÉ 2FM Studios, Dublin) (Bonus Track) (Bonus Track) | 5:22 | Nicht einzeln erhältlich |
Gesamtspielzeit:

48:51
Genres:
℗ Sour Mash Records Ltd
© Sour Mash Records Ltd