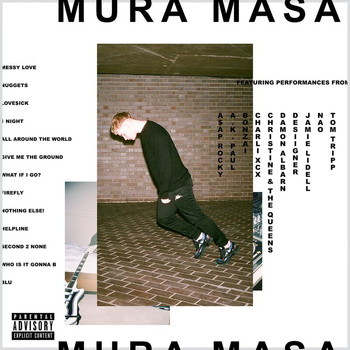 Explicit Content
Album vorhören Mura Masa (Explicit)
Erscheinungsdatum:
12.01.2018
Label:
℗ 2017 Anchor Point Records, under exclusive licence to Polydor Records, a division of Universal Mus
7digital

Was wir davon halten:

Nach einer Anreihung erfolgreicher EPs und Jamie xx-würdigem Hype erscheint jetzt Mura Masas Album gleichen Namens, auf dem der junge Produzent dem multikulturellen Großbritannien huldigt: Es gibt scheppernde Stahltrommeln, lushe Synths und trappige Beats, die in Konflikt stehen mit der Art von House-Musik, die an Klangkarussell erinnert. Die Highlights sind klar die Gäste, wie AK Paul, der auf 'Who Is It Gonna B' zu hören ist. Der Track hat die typischen, verträumten und ruhigen aber auch merkwürdigen Falcetto-Vocals, hingegen ist "One Night", ein zuckerhaltiger Pop-Smasher mit Charli XCX. Auf der Suche nach einem Album, das den Zeitgeist Großbritanniens im Jahre 2017 gekonnt zusammenfasst? Hier ist es.
| Tracknummer | Songtitel | Songlänge | Preis |
| --- | --- | --- | --- |
| 1 | Messy Love | 3:46 | |
| 2 | Nuggets (Explicit) | 3:30 | |
| 3 | Love$ick (Explicit) | 3:12 | |
| 4 | 1 Night | 3:28 | |
| 5 | All Around The World (Explicit) | 2:44 | |
| 6 | give me The ground (Explicit) | 1:08 | |
| 7 | What If I Go? | 3:15 | |
| 8 | Firefly | 3:48 | |
| 9 | NOTHING ELSE! (Explicit) | 3:27 | |
| 10 | helpline | 3:25 | |
| 11 | Second 2 None | 4:11 | |
| 12 | Who Is It Gonna B | 4:59 | |
| 13 | Blu | 4:32 | |
Gesamtspielzeit:

45:25
Genres:
℗ 2017 Anchor Point Records, under exclusive licence to Polydor Records, a division of Universal Music Operations Limited
© 2017 Anchor Point Records, under exclusive licence to Polydor Records, a division of Universal Music Operations Limited