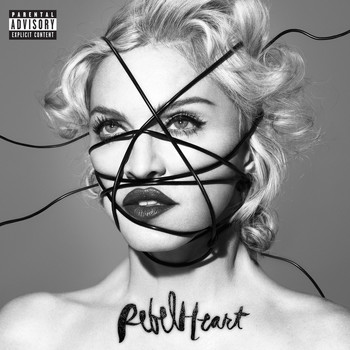 Explicit Content
Album vorhören Rebel Heart (Explicit)
Erscheinungsdatum:
07.04.2018
Label:
â"— 2015 Boy Toy, Inc., Exclusively licensed to Live Nation Worldwide, Inc. Exclusively licensed to
7digital

Was wir davon halten:

Es scheint fast so als stünde Madonnas Comeback 2015 unter keinem guten Stern: bereits vor Veröffentlichung tauchten einige ihrer Songs im Internet auf, dann kursierten nicht autorisierte Fotos auf Instagram und zu guter Letzt wurden Millionen von Fernsehzuschauer Zeuge ihres unfreiwilligen Stunts während der BRIT-Awards. Für viele andere Künstler hätte all das fatal enden können, doch nicht für die Queen of Pop. Eine Kooperation mit Kanye West bei "Illuminati" und der von Diplo produzierte Track "Unapologetic Bitch" sind nur zwei der vielen HIghlights auf "Rebel Heart" - wer sich drauf einlässt wird noch einig mehr entdecken.
| Tracknummer | Songtitel | Songlänge | Preis |
| --- | --- | --- | --- |
| 1 | Living For Love | 3:39 | |
| 2 | Devil Pray | 4:06 | |
| 3 | Ghosttown | 4:10 | |
| 4 | Unapologetic Bitch (Explicit) | 3:51 | |
| 5 | Illuminati | 3:45 | |
| 6 | Bitch I'm Madonna (Explicit) | 3:47 | |
| 7 | Hold Tight | 3:37 | |
| 8 | Joan Of Arc | 4:02 | |
| 9 | Iconic | 4:33 | |
| 10 | HeartBreakCity (Explicit) | 3:34 | |
| 11 | Body Shop (Explicit) | 3:39 | |
| 12 | Holy Water (Explicit) | 4:09 | |
| 13 | Inside Out | 4:24 | |
| 14 | Wash All Over Me | 4:01 | |
Gesamtspielzeit:

55:17
Genres:
℗ â"— 2015 Boy Toy, Inc., Exclusively licensed to Live Nation Worldwide, Inc. Exclusively licensed to Interscope Records
© © 2015 Boy Toy, Inc., Exclusively licensed to Live Nation Worldwide, Inc. Exclusively licensed to Interscope Records