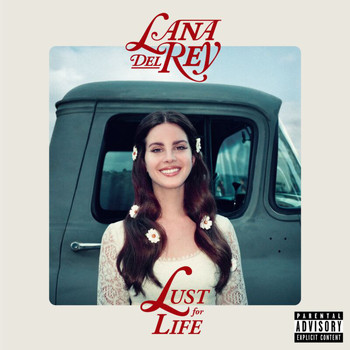 Explicit Content
Album vorhören Lust For Life (Explicit)
Erscheinungsdatum:
06.01.2018
Label:
℗ 2017 Lana Del Rey, under exclusive license to Vertigo/Capitol, a division of Universal Music GmbH
7digital

Was wir davon halten:

Wenn auch die Art Unbeschwertheit, die einem das Wasser in die Augen treibt, immer genau Lana Del Reys Ding war, so scheint sie trotzdem auf diesem Album - man traut sich kaum es zu sagen - optimistisch? Na ja, auch wenn sie in den Singles nicht direkt mit ihrem "Hollywood Sadcore" gebrochen hat, so gibt es definitiv neuen Schwung. Fürs Erste gibt es eine Menge Kollaborationen, inklusive The Weeknd, A$AP Rocky, Atlantas neuesten Hip-Hop Star Playboi Carti, und sogar Stevie Nicks. Nach wie vor behalten die die filmischen Songs ihren unheimlichen Charakter, manchmal vermischt mit etwas Trap. Auch wenn Lana Del Reys Stimme die Einzigartigkeit und Summer Wine-Süße behält, so fühlt sich dieses Album sehr so an, als könne es auch Fans außerhalb ihres Stammpublikums erreichen.
| Tracknummer | Songtitel | Songlänge | Preis |
| --- | --- | --- | --- |
| 1 | Love | 4:33 | |
| 2 | Lust For Life | 4:24 | |
| 3 | 13 Beaches | 4:56 | |
| 4 | Cherry (Explicit) | 3:01 | |
| 5 | White Mustang | 2:45 | |
| 6 | Summer Bummer (Explicit) | 4:21 | |
| 7 | Groupie Love (Explicit) | 4:24 | |
| 8 | In My Feelings (Explicit) | 3:59 | |
| 9 | Coachella - Woodstock In My Mind | 4:18 | |
| 10 | God Bless America - And All The Beautiful Women In It | 4:36 | |
| 11 | When The World Was At War We Kept Dancing (Explicit) | 4:36 | |
| 12 | Beautiful People Beautiful Problems | 4:14 | |
| 13 | Tomorrow Never Came | 5:08 | |
| 14 | Heroin (Explicit) | 5:55 | |
| 15 | Change | 5:21 | |
| 16 | Get Free | 5:34 | |
| pdf | Lust For Life | | Nicht einzeln erhältlich |
Gesamtspielzeit:

1:12:05
Genres:
℗ 2017 Lana Del Rey, under exclusive license to Vertigo/Capitol, a division of Universal Music GmbH
© 2017 Lana Del Rey, under exclusive license to Vertigo/Capitol, a division of Universal Music GmbH