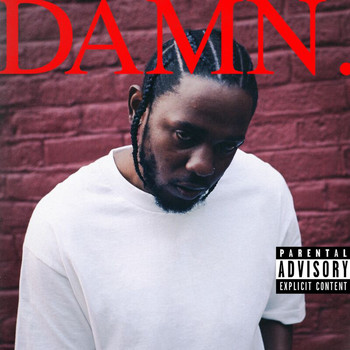 Explicit Content
Album vorhören DAMN. (Explicit)
Erscheinungsdatum:
11.06.2018
Label:
℗ 2017 Aftermath/Interscope (Top Dawg Entertainment)
7digital

Was wir davon halten:

Sei es Pitchfork, Pigeons and Planes oder Rolling Stone und Billboard: Im Jahre 2015 gab es wohl kaum eine "Best Of" Liste in der To Pimp A Butterfly nicht an der Spitze lag. Falls Kendrick Lamar sehr besorgt gewesen sein sollte, an sein, wie FACT Magazine es nannte, "magnum opus" anzuschließen, so hatte er sich augenscheinlich dazu entschieden, sich nicht näher mit dem Thema zu befassen und stattdessen die Demo Kollektion Unittled Unmastered in 2016 zu veröffentlichen. Jetzt folgt das vierte Album, auf dem sich die die Karten noch einmal gehörig neu mischen. Die ruppigen Jazzeinflüsse gehören der Vergangenheit an und weichen losen, verspielten Grooves, die ihre Wurzeln im 70ies Soul und Psych finden. DAMN mag vielleicht musikalisch zugänglicher sein, büßt aber keinesfalls Qualität ein.
| Tracknummer | Songtitel | Songlänge | Preis |
| --- | --- | --- | --- |
| 1 | BLOOD. (Explicit) | 1:58 | |
| 2 | DNA. (Explicit) | 3:06 | |
| 3 | YAH. (Explicit) | 2:40 | |
| 4 | ELEMENT. (Explicit) | 3:29 | |
| 5 | FEEL. (Explicit) | 3:35 | |
| 6 | LOYALTY. (Explicit) | 3:47 | |
| 7 | PRIDE. (Explicit) | 4:35 | |
| 8 | HUMBLE. (Explicit) | 2:57 | |
| 9 | LUST. (Explicit) | 5:08 | |
| 10 | LOVE. (Explicit) | 3:33 | |
| 11 | XXX. (Explicit) | 4:14 | |
| 12 | FEAR. (Explicit) | 7:41 | |
| 13 | GOD. (Explicit) | 4:09 | |
| 14 | DUCKWORTH. (Explicit) | 4:09 | |
Gesamtspielzeit:

55:01
℗ 2017 Aftermath/Interscope (Top Dawg Entertainment)
© 2017 Aftermath/Interscope (Top Dawg Entertainment)