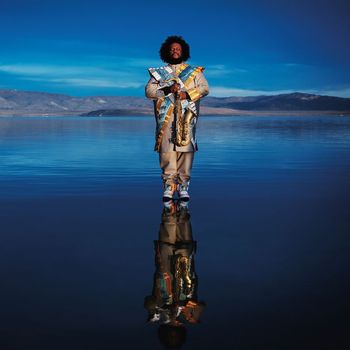 Album vorhören Heaven and Earth
Erscheinungsdatum:
22.06.2018
Label:
Young Turks Recordings
7digital

Was wir davon halten:

Der König der derzeitigen Jazzszene ist zurück mit Album Nummer zwei – und es ist so smooth und fesselnd, wie man es erwarten würde, aber dieses Mal auch mehr politisch. Der Saxophonist Kamasi Washington aus Los Angeles katapultierte sich in den großen Erfolg nachdem er an To Pimp A Butterfly arbeitete - und sein neustes Werk ist in Einklang mit dem begleitenden Kommentar dieser Veröffentlichung. Es handelt von leidenschaftlicher Realität und himmlischer Fantasie. Auf dem Doppelalbum treffen die Parolen der Earth-Seite auf die verträumten Hoffnungen der Heaven disc. Es ist nicht so ernst, wie es jetzt klingt – beide Alben haben ihre schmierigen 70er-Fim-Soundtrack-artigen Sounds, die wie Kaskaden auf einen einprasseln, aber auch viel Spaß machen. Auf Heaven and Earth beweist Kamasi Washington, dass er und seine Band so ambitioniert und eindringlich wie nie sind.
Disc 1 von 2

| Tracknummer | Songtitel | Songlänge | Preis |
| --- | --- | --- | --- |
| 1 | Fists of Fury | 9:43 | |
| 2 | Can You Hear Him | 8:54 | |
| 3 | Hub-Tones | 9:10 | |
| 4 | Connections | 8:24 | |
| 5 | Tiffakonkae | 9:24 | |
| 6 | The Invincible Youth | 9:53 | |
| 7 | Testify | 5:44 | |
| 8 | One of One | 9:50 | |
Disc 2 von 2

| Tracknummer | Songtitel | Songlänge | Preis |
| --- | --- | --- | --- |
| 1 | The Space Travelers Lullaby | 10:31 | |
| 2 | Vi Lua Vi Sol | 11:07 | |
| 3 | Street Fighter Mas | 5:58 | |
| 4 | Song For The Fallen | 12:41 | |
| 5 | Journey | 8:51 | |
| 6 | The Psalmnist | 7:18 | |
| 7 | Show Us The Way | 6:51 | |
| 8 | Will You Sing | 10:13 | |
Gesamtspielzeit:

2:24:32
Genres:
℗ 2018 Shoto Mas Inc. under exclusive license to Young Turks Recordings
© 2018 Shoto Mas Inc. under exclusive license to Young Turks Recordings