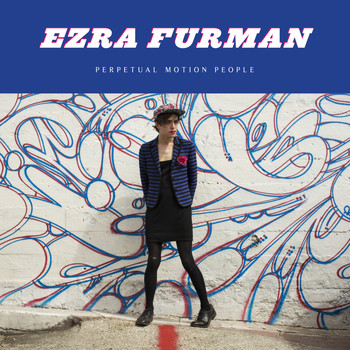 Album vorhören Perpetual Motion People
Erscheinungsdatum:
06.07.2015
7digital

Was wir davon halten:

"I was sick of the ordinary life, you`ve gotta keep it new to keep it true" singt Ezra Furman in "Ordinary Life" und beschreibt so schon ein bisschen sein neues, drittes Solo Album Perpetual Motion People. Traditionelle Gesellschaftsbilder sind ihm genauso öde wie Geschlechterrollen. Oft verglichen mit Jonathan Richman oder Mac DeMarco, findet man Furmans eingängige Stimme und brilliante Texte umgeben von Trompeten und klingenden Gitarren denen man den Einfluss der 50er und 60er Jahre anhört. Perpetual Motion People ist die erste LP, die er unter Bella Union (Father John Misty, Fleet Foxes, Beach House) herausbringt, nachdem er mit dem Vorgänger (dem bereits fünften! Album) Day of the Dog endgültig flächendeckend auf sich aufmerksam machen konnte.
| Tracknummer | Songtitel | Songlänge | Preis |
| --- | --- | --- | --- |
| 1 | Restless Year | 2:25 | |
| 2 | Lousy Connection | 4:11 | |
| 3 | Hark! to the Music | 1:25 | |
| 4 | Haunted Head | 4:49 | |
| 5 | Hour of Deepest Need | 4:27 | |
| 6 | Wobbly | 3:00 | |
| 7 | Ordinary Life | 2:20 | |
| 8 | Tip of a Match | 2:35 | |
| 9 | Body Was Made | 3:31 | |
| 10 | Watch You Go By | 4:09 | |
| 11 | Pot Holes | 3:18 | |
| 12 | Can I Sleep in Your Brain | 3:57 | |
| 13 | One Day I Will Sin No More | 2:31 | |
Gesamtspielzeit:

42:38
Genres:
℗ 2015 Bella Union
© 2015 Bella Union