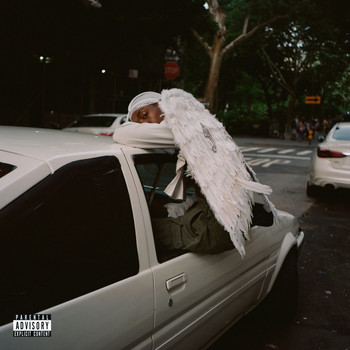 Album vorhören Negro Swan
Erscheinungsdatum:
24.08.2018
Label:
Domino Recording Co
7digital

Was wir davon halten:

Einige Themen ziehen sich durch Devonté Hynes' großartiges viertes Album als Blood Orange, aber eines, das vor allem heraussticht, ist das der Familie. Nicht im traditionellen Sinne a la Eltern, Geschwister und so, aber stattdessen bezogen auf die Menschen mit denen wir uns umgeben. Die Kollaborateure auf diesem üppigen Werk fühlen sich allen Anscheins nach sehr wohl in ihrem Familienverband: Zum einen haben wir Puff Daddy, der verletzlich genug sein möchte, um jemanden wahrlich zu leben, dann Janet Mocks gesprochene Interludes, die davon erzählen, Orte zu finden, an denen man wahrlich man selbst sein kann. Dann gibt es sogar noch etwas Albernes von The Internets Steve Lacey, der einen Instrument-Tausch vollzieht und in "Out of Your League" Keyboard spielt, während Hynes sich am Bass versucht. In Zeiten der Unsicherheiten und Beunruhigung gibt einem dieses Werk voller großartiger R&B, Soul, Jazz, Hiphop und Synth-Pop Einflüsse etwas sehr angenehm Tröstliches.
| Tracknummer | Songtitel | Songlänge | Preis |
| --- | --- | --- | --- |
| 1 | Orlando | 3:02 | |
| 2 | Saint | 3:12 | |
| 3 | Take Your Time | 2:51 | |
| 4 | Hope | 3:59 | |
| 5 | Jewelry (Explicit) | 4:32 | |
| 6 | Family | 0:41 | |
| 7 | Charcoal Baby | 4:02 | |
| 8 | Vulture Baby | 1:14 | |
| 9 | Chewing Gum (Explicit) | 4:23 | |
| 10 | Holy Will | 4:22 | |
| 11 | Dagenham Dream | 2:45 | |
| 12 | Nappy Wonder | 2:38 | |
| 13 | Runnin' | 3:55 | |
| 14 | Out Of Your League | 2:20 | |
| 15 | Minetta Creek | 1:58 | |
| 16 | Smoke (Explicit) | 3:29 | |
Gesamtspielzeit:

49:23
Genres:
℗ Domino Recording Co Ltd
© Domino Recording Co Ltd