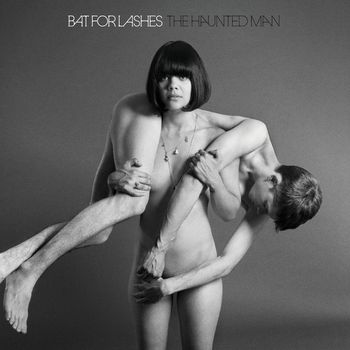 Album vorhören The Haunted Man
Erscheinungsdatum:
15.10.2012
Hier könnt ihr unser exklusives Interview mit Bat for Lashes lesen.
7digital

Was wir davon halten:

Nach 3 Jahren Stille hat sich Natasha Khan vor ein paar Wochen mit Laura zurück gemeldet – eine absichtlich einfach gehaltene Klavierballade, lediglich begleitet von ein paar Hörnern und Khans klagender Stimme. Ein wunderschöner Song der allerdings ein wenig auf die falsche Fährte lockt was den Rest des Albums angeht. Mit Beck und Pj Harveys langjährigem Produzenten Rob Ellis zusammen hat Natasha Khan auf The Haunted Man ihren emotionalen Ballast über Bord geworden und kombiniert auf organische mit elektronischen Elementen. Heraus kam üppiger Barock-Pop. Unsere persönlichen Highlights sind die blitzenden Synths auf Marilyn und die unglaublich athmospährische Melodie auf Deep Sea Diver.
| Tracknummer | Songtitel | Songlänge | Preis |
| --- | --- | --- | --- |
| 1 | Lilies | 4:46 | |
| 2 | All Your Gold | 4:32 | |
| 3 | Horses of the Sun | 5:00 | |
| 4 | Oh Yeah | 4:56 | |
| 5 | Laura | 4:26 | |
| 6 | Winter Fields | 3:43 | |
| 7 | The Haunted Man | 5:16 | |
| 8 | Marilyn | 4:36 | |
| 9 | A Wall | 4:02 | |
| 10 | Rest Your Head | 4:04 | |
| 11 | Deep Sea Diver | 6:20 | |
Gesamtspielzeit:

51:41
Genres:
℗ 2012 The copyright in this sound recording is owned by The Echo Label Ltd under exclusive licence to Parlophone Records Ltd
© 2012 The copyright in this sound recording is owned by The Echo Label Ltd under exclusive licence to Parlophone Records Ltd