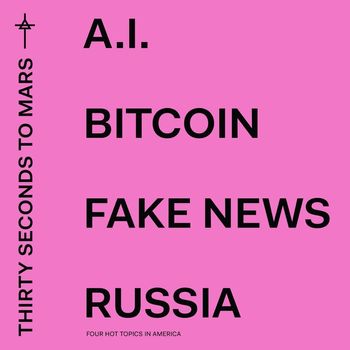 Album vorhören AMERICA
Erscheinungsdatum:
06.04.2018
Label:
Thirty Seconds To Mars
7digital

Was wir davon halten:

Da er ein exzentrischer Hollywood-Prinz geworden ist, ist es zu verzeihen, wenn man ab und zu vergisst, dass Jared Leto auch noch Frontmann der Alt-Rock Band Thirty Seconds To Mars ist. Zusammen mit Bandmitglied und Bruder Shannon Leto geht die Band auf diesem fünften Studioalbum mehr in die Richtung, in die es schon einige ihrer Emo-Kollegen verschlagen hat: EDM-durchzogener, Auto-Tune-lastiger Hard-Pop. Auch wenn das Album versucht eine Art introspektive Studie der Soziologie zu sein, so ist es fraglich wie sehr diese Stadiums-Hymnen wirklich von dem amerikanischen Zustand in 2018 handeln. Die Abwesenheit einer bitteren Erläuterung macht aber nichts, denn mit Features von Leuten wie A$AP Rocky und mithilfe Jareds stetig wachsender Fan-Gemeinschaft außerhalb des inneren Echelons ist eines sicher: Thirty Seconds To Mars sind auf dem Erfolgskurs.
| Tracknummer | Songtitel | Songlänge | Preis |
| --- | --- | --- | --- |
| 1 | Walk On Water | 3:08 | |
| 2 | Dangerous Night | 3:20 | |
| 3 | Rescue Me | 3:37 | |
| 4 | One Track Mind | 4:20 | |
| 5 | Monolith | 1:38 | |
| 6 | Love Is Madness | 3:54 | |
| 7 | Great Wide Open | 4:49 | |
| 8 | Hail To The Victor | 3:21 | |
| 9 | Dawn Will Rise | 3:56 | |
| 10 | Remedy | 3:17 | |
| 11 | Live Like A Dream | 4:06 | |
| 12 | Rider | 2:57 | |
Gesamtspielzeit:

42:23
Genres:
℗ 2018 Thirty Seconds to Mars, under exclusive license to Interscope Records
© 2018 Thirty Seconds to Mars, under exclusive license to Interscope Records